"I have not failed; I have just found 10,000 ways that won't work."
Thomas Edison, inventor.
I'm incredibly lucky in my job in that, occasionally, I get to partake in things called INSET days, aka teacher training days.
And at some of these INSET days I have had the opportunity to listen to some truly motivational speakers, some of whom are not solely centered in educational circles.
Today I had the privilege of being able to listen to the motivational keynote speaker John Bell.
In his speech today, entitled "The Habit of Success in Education", Bell focused his presentation on what successful people have in common with each other, and he broke this down into five points for which he used the acronym H.A.B.I.T.
To cut a long story short H.A.B.I.T stands for:
How can we make this better?
Admit your weaknesses.
Behaviour breeds behaviour
Imagination
Take Action
Bell believes that possessing these five traits are what makes a person successful. He makes a compelling case, and I couldn't agree with him more. However, afterwards, on my drive home, I did begin to ponder the definition of success. For what is success exactly? What makes one person more successful than another and if it is different in definition for different people, how is it that common traits can be attributed to them?
In this blog post I'm going to attempt to address this notion of what success is and what it looks like, and I'll be using Bell's HABIT acronym to help me organise some of my thoughts.
1) How can we make this better?
So, despite the truly inspirational message I went away with at the end of the conference, I did have a small problem with how Bell seemed to view what success meant. He didn't dwell on a definition of success, rather he talked about his grown up son: A man who has developed computer programs for Sony Playstation. A man who now only has to work two full days a week. This, as a measure of success was alluded to rather than made explicit,  I must point out, nevertheless to me this seemed to be the underlying message.
Now this notion of success didn't sit particularly well with me I have to say. Not that I'm sure we don't all aspire to only have to work two days a week, I mean who wouldn't? But this fact suggests financial security is the cornerstone of success.
And do I believe success is measured solely in how many dollars one has? No I don't.
Should I? Is this really the true mark of success? To be free from the ties that bind us to the daily grind of work so that we can spend more time with our families? Maybe, but would anyone say Mother Teresa wasn't successful?…
I didn't disagree with the attached anecdote in that his son had noticed, upon starting working for Sony, that no sooner had they finished developing one thing than the bosses were asking "How can we make this better?" And this surely is the premise for success in anything: Always looking to better something or oneself. It is, as Bell said, why technology has propelled forward at the rate it has in the last thirty years.
I certainly know in my role as a teacher that I have never, in seventeen years, stopped questioning "How can I do this better?" It's what drives me and what drives me crazy in equal measure! You'll rarely find me teaching the same lesson twice. I never use my planning from the previous year, because I believe that I can always make what I did better. But how is my success in a classroom measured? Am I successful in my chosen path? It was now this question which led me to try and define what success is.
Well firstly, I'd never consider myself to be a huge success in my particular field of work.
Why?
Because I've never been nominated for a teacher of the year award? Because I've never become one of the government's so called "Super Teachers?" Because I failed at being a manager and so have very little influence in the hierarchy of school and having my ideas taken on board? Because I'm not a head teacher, and have no ambition to be one? Because I have no power or authority with those in the higher echelons?
I have none of these accolades which I believe those in the education profession consider to be the mark of success.
And so am I successful in education? Many, for the reasons given above, would say no. They'd not admit that of course. They'd feed me some rubbish about "Oh of course you're successful," whilst secretly sniping behind my back that I've never pushed myself to be successful in education. Ah, well perhaps there is the crux of it. Perhaps I just wanted to be a successful teacher, not successful in education.
So how do we measure that exactly?
By how much I am paid? Hardly, as no one enters teaching to make money, for money cannot be made by educating children. Although performance related pay is on the cusp of introduction, even this cannot become the mark of whether I'm a successful teacher or not, for how is my performance to be measured? On the results of my pupils of course. But I for one don't believe good academic results are the mark of a successful teacher, for not everyone is academic. It's certainly not what I'd measure my success on. I'd measure my success as a teacher (if indeed success can be measured) on how I make pupils feel and on what they take away from me into their lives outside the classroom. But that may be something which doesn't come to fruition for many years.
However, despite this fact, and despite the fact that I do enrich many pupil's school lives,  I still do not feel successful in my career and this is perhaps because as a society we have constructed this idea that to be successful, you have to have made money or influenced people in magnificent, revolutionary ways. I don't feel I have achieved that in any great shakes, yet at the start of each year I get children cheering when they hear they will be taught by me. Therefore I must have some influence. But this seems a tiny and insignificant way of measuring success.
So does simply thinking "How can I make this better?" make one successful? I don't think it can. After all,  I think like this all the time and, as I've said, I haven't trail blazed initiatives or propelled education forward in any way. If thinking "How can we make this better" was the only habit of success, there would be many more people deemed 'successful'  in the world and besides, why would there be four more factors?
2: Admit your weaknesses.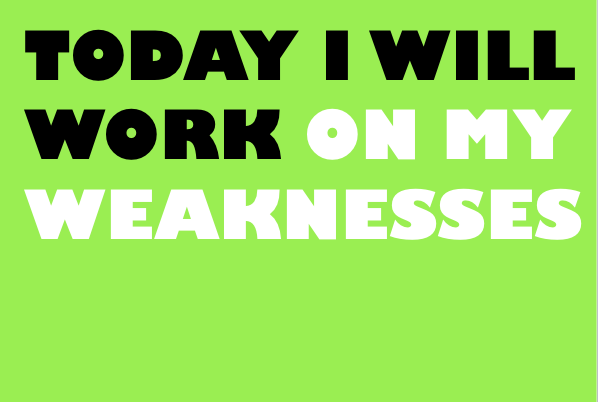 Ah now this one I have no problem with! I can see my failures and reflect on them no end. Perhaps I'm not particularly successful because I do this too much!
But, but, but. As both a teacher, and now a writer, I am very reflective. I always have been. I am happy to say what I'm not so good at and what I need help with and I'm not afraid to fail sometimes. Because as Gerry Raferty said: "If you get it wrong, you'll get it right next time."
I'm also a great believer in playing to your strengths. We (or at least very few of us) can excel at everything. Therefore, always play to your strengths. Admit when you need help and build on and keep trying with the things you are not so great at. Keep growing. None of us are perfect, but we can take a lot from those around us. Listen to them if they give you constructive criticism. They may be able to see the weaknesses you can't. But if you can't admit they are there, how can you expect to move forward? If you don't keep an open mind, but instead close it off and think you know best, then how can you ever hope to become successful? (Whatever that means!)
Does only being reflective make a person successful? Does it help us to define what success is? I'm not sure it does, so let's move on.
3: Behaviour breeds behaviour.
Bell's point that you sometimes you have to act enthusiastically as a teacher, in order to breed enthusiasm in students is so spot on. We all know, if you smile, others are more likely to smile back. If you frown, others will more likely frown too. If you moan and whine, others will follow suit usually. Positivity breeds positivity and negativity breeds negativity.
Are successful people negative, glass half empty people? Absolutely not. I, possessing an odd balance of both traits, will testify to this. When I'm in a negative down on myself mood I get nothing done. I achieve nothing. If I avoid social networks when I feel down, I just get more down. But I can guarantee if I log on and seek out some positive people my mood and productivity can lift in minutes. If you tell someone they are great, they will start to believe it, the same as if you put someone down they will start to believe your put downs are true. It can take years, even a lifetime to undo the damage which is why many people battle with this notion of being positive. Maybe they grew up with no one bolstering them with positivity. It's a long road to get to that point where you can believe in yourself.
Bell said something which really resonated with me, in believing myself to be successful, that is.  He said:
"I'm not what I think I am. I'm not what you think I am. I am what I think you think I am." 
Just ponder on that for a moment.
Isn't it so true?
We believe in ourselves when others believe of us. Therefore, if we exude positivity about others I believe it helps breed their success and our own. And I see this completely in the writing community on Twitter. There is empowerment in sharing and celebrating each other's achievements, no matter how small. It seems to lead almost automatically to success. I'm not talking about a multi-million dollar book deal success. I'm talking about other successes, the ones I still have yet to define in this post.
It is also very apparent in teaching. By definition a nurturing, caring profession and those who display their positive behaviours get so much more back in return from their pupils. They also get more back from their colleagues if they champion their colleagues and share ideas with them.
One of my favourite songs we sing at primary school is "The Magic Penny." If you are not familiar with the song its chorus line has the lyrics:
"Love is something if you give it away, you end up having more…
It's just like a magic penny,
Hold it tight and you won't have any.
Lend it, spend it and you'll have so many,
They'll roll all over the floor…"
So is success defined by how positive we are with others? I believe partly it is. I believe we can actually believe we are successful if we are given positive reinforcement of this by others and give it ourselves.
This year I have been lucky enough to meet one of the most positive people I have ever met, and I can't believe the effect his positive attitude has had in helping me develop and change my mind set further. My boss has been great with this too, so I have been doubly lucky. Now that's not to say I don't have bad days/moments or negative thoughts. I am human! However, I have found them to be decreasing and not lingering quite so much as they used to. I feel blessed to  know this person and he has really helped me see how behaviour does indeed breed behaviour. If you say good morning to people, even if you feel like crap that day, it lifts you when you get a positive response. Hide away and others hide too. Smile, chat, engage and others reciprocate and it snowballs. Win/win.
4) Imagination
"Imagination is more important than knowledge." Bell says this doesn't mean knowledge isn't important, just that imagination is more important to success. Do you ever take time to just sit and think and let your mind wander? Bell argues that successful people do just that. Albert Einstein did it when considering the universe and the relativity of time and space. My little boy did it whilst drifting off to sleep last night and came up with an idea for what he wanted to build from Lego today. Writers who don't take time to just sit and imagine, I don't feel will become very successful at all. Teachers who don't take time to reflect back or forward on what they are doing cannot, to my mind, improve on what they are doing and so how can success come? It doesn't mean we all have to be writing fantasy stories but it does mean just stopping and thinking…."what if..?what if..?" What ifs lead inevitably to point number five, which I consider to be the most important ingredient and the main key to success..
5) Take Action
You can imagine all you like, be as positive as you like, you can admit to every weakness you want and you can strive everyday to think about how to make things better. However, if you never take action, if you never follow up the what ifs…, if you just sit there…well as the famous saying goes… "you'll get run over."
But…
The problem Bell sees is that people often fail and are not successful because they don't define exactly what it is they want to achieve.
It was this statement which gave me a light bulb moment yesterday. Why do I not consider myself to be a successful teacher? It's simple. I haven't yet defined what success for me looks like. I haven't defined and pinpointed exactly what I want to achieve in teaching. I think I've spent too long looking at society's definition, rather than coming up with my own.
I do know what I want to achieve in writing, however, and I have taken many steps towards achieving that success. I'm not there yet, but I will get there because I know what my success will look like. For me. Not for anyone else.
And so back to the original question of this post: What is success? How do we define successful people?
Is it by the amount of money they earn? How happy they are? The size of their house or car? If they are married? If their business is booming? If they have children or not? If they work in a job they like? If they don't work?
The answer is, I believe, none of these.
Success I think is measurable only by you achieving what you want to achieve.
And that will look different for everybody.
However I do think to be successful in the way you want, you do have to have H.A.B.I.T. You do need to think about HOW to make things better; Be able to ADMIT your own weaknesses; Look at your BEHAVIOUR and see how it breeds behaviour; Be able to take time out to reflect and IMAGINE. But most importantly get out there and TAKE action. However you do that. Go and write. Go and talk to others. Go and help out in a soup kitchen. Whatever it may be.
But define for yourself what it is you want to achieve, and then break your goals down into small, achievable steps. And then, keep going until you achieve what it is you set out to do.
That, for me,  is success.
Right, I had better go and follow my own advice and get cracking on the next chapter of this novel. It won't write itself despite the lots of imagining I did last week!
Thanks as ever for reading. Please feel free to leave your comments on what success is for you in the comments section below. :)